This article is produced in partnership with Hilton Hotels in Zagreb: Canopy by Hilton, Double Tree Hilton, and Hilton Garden Inn Zagreb.
Welcome to Zagreb Croatia!
With a population of around one million people, Zagreb is by far the largest city in Croatia. Folks come from every corner of the land - and many from neighbouring Bosnia and Herzegovina too- to live here. Why? Well, better opportunities, culture, entertainment and an incredibly enjoyable standard of life. And, that's exactly why you should come too, as we'll try to show here.
The 5 best things to do in Zagreb
You'll find enough to entertain you in Zagreb that you could happily stay for a year. But, sometimes that just isn't possible. If you're only in Zagreb for one day, then don't worry. You can still see some of the essentials and get a true feel for the place.
1) Get to know Upper Town (Gornji grad) and Lower Town (Donji grad)
The easiest way to get your bearings in Zagreb is to split the city centre in half. Certainly, you're not the first to do so. In fact, the two distinct parts of Zagreb centre have long been known as Upper Town (Gornji grad) and Lower Town (Donji grad).
In order to find the two, stand on the main square, Ban Jelačić square (Trg bana Josipa Jelačića). Basically, everything to your north is Upper Town and everything to your south is Lower Town.
Zagreb Lower Town (Donji grad)
If you're for the centre's best shops and daytime cafes, then go to Lower Town. Significantly, this part of town is filled with parks and is totally flat. Subsequently, trams course through Lower Town. But, don't miss out on the walk.
Cvjetni trg and Teslina
Around Cvjetni trg (Flower square) on weekend mornings, you'll see well-dressed city residents chilling out, taking coffee. Go and see how the locals like to live. Both boutique shops and major department stores make a home in Lower Town. If you want to buy a watch, jewelry or clothes, take a walk up Ilica. When it's time for lunch, you'll find some great options around ulica Nikole Tesle (Teslina). Certainly, don't miss out on one of the best walks of any European capital, Lenuzzi's Horseshoe.
Lenuzzi's Horseshoe
Stretching in a U shape through Lower town, Lenuzzi's Horseshoe offers an extended green escape right in the heart of the city. Without reservation, you should walk its entire length. While city centre parks are far from unique to Zagreb, it's unusual to have such a conjoined grouping. Moreover, the grand Austro-Hungarian buildings serving as a backdrop on the route make it a spectacular and unforgettable stroll. Don't rush it.
On the easterly side, you'll see Zrinjevac park, Strossmayer square, Tomislav park and Glavni kolodvor (main train station). Within this stretch lie the Croatian Academy of Arts and Sciences and the incredible Art Pavilion.
Along the adjoining route, Ante Starčević square, the Esplanade hotel, and the beautiful Zagreb Botanical Gardens.
On the westerly side, Marko Marulić square, Mažuranić square and Republic of Croatia square. Within this stretch, some of the most important national institutions like Croatian National Theatre Zagreb, Croatian State Archives, Mimara Museum and Miroslav Krleža Institute of Lexicography.
Also, housed in grandiose buildings within this section, some of the main points of Zagreb University. Namely, the Faculties of Chemical Engineering and Technology, Law, Drama, Music, Faculty of Science's departments of Geography and Biology.
Zagreb Upper Town (Gornji grad)
Just as people have long separated Zagreb centre in two (Gornji grad and Donji grad), so too have they divided the Upper Town. Indeed, Gornji grad (Upper Town) has been divided for much, much longer.
Specifically, its two constituent parts - Gradec and Kaptol - used to be two neighbouring medieval settlements. In fact, they didn't always get along. You'll see evidence of this in the remnants of walls built to protect Gradec. Also, do we perhaps see it in the naming of an alleyway connecting Radićeva and Tkalčićeva - Krvavi most (Bloody bridge)?
Medveščak and Krvavi most
Standing on the cute and stone-cobbled 'Krvavi most' today, you might wonder just where is the bridge? Good question. Previously, a separating stream - Medveščak - flowed between Gradec and Kaptol. In fact, it was the water supply for both towns.
Medveščak still exists to this day. It runs all the way from Medvednica mountain down to the city. Indeed, it is quite pronounced as it passes through several northerly neighbourhoods, where it used to power mills. Both these mills and the sovereignty of the stream caused conflict between Gradec and Kaptol. On account of Medveščak being the sole water source shared by each town.
However, after heavy rains, Medveščak used to rise unpredictably. Indeed, it was once the cause of several floods to residencies in the city. In 1651, some 52 people drowned in one instance of Medveščak flooding. Thereafter, the stream earned the nickname 'Krvavi potok' (Bloody creek). Is 'Krvavi most' so named because of the conflict taking place there between Gradec and Kaptol residents? Certainly, that's the explanation widely told around Zagreb today. But, could the bridge have earned its name by passing over the Krvavi potok? The first mention of 'Krvavi most' actually comes from 1667, the time of the bridge's construction. After the stream had earned its 'bloody' nickname.
Manduševac fountain
By 1898, city authorities had decided to do away with the risk of Medveščak flooding. Subsequently, they incorporated the lower course of the stream into the tunnel system of the city sewers. By this time, city residents no longer needed Medveščak as their source of drinking water. In fact, when new streets were built atop the stream, the city's old water well was temporarily lost.
However, it was rediscovered in 1986 during reconstruction of today's Ban Jelačić square. Today, you can still see the site of Zagreb's original water well and the mouth of Medveščak. It is the Manduševac fountain, situated prominently on the east of Ban Jelačić square. Although, these days, the inconsistent strength of Medveščak is not enough to power the fountain's permanent display.
Gradec
In the Gradec part of Upper Town, you'll find grand palaces, government buildings, museums, galleries, parks and restaurants. It's the highest extended stretch of land in the immediate city centre, even looking down on Kaptol. Therefore, to enter Gradec you need to travel upwards. And, there are several interesting ways you can.
Zakmardi's stairs (Zakmardijeve stube): the quickest way to Gradec
If you're on Ban Jelačić square, then the quickest way to reach Gradec is Zakmardi's stairs. Head up Radićeva a little, looking out for a narrow, graffiti-covered alley rising on your left. Actually, the stairs are named after lawyer Ivan Zakmardi, who in 1643 set foundations for the Croatian National Archives. In 1878, when they were built, they lead up to the University of Zagreb. Previously, the institution was located on Katarina square. Between lectures, students hung out on these stairs.
Kamenita vrata (Stone gate): the quietest way to Gradec
Following Radićeva past the entrance to Zakmardi's stairs, a little further up you'll meet St. George. Taking the stairs on the left, just before his statue, brings you to the entrance of Kamenita vrata. Actually, this 13th-century stone gate was once part of Gradec's defensive walls. In May 1731, a fire destroyed much of the old city. Hanging in the gate at this time, a painting of Mary and Jesus escaped damage from the flames. Subsequently, faithful Zagreb citizens built a chapel and shrine within the gate. People come here to pray and light a candle, so be respectfully quiet as you pass. If you take a look, then you'll see the picture of Mary and Jesus still hanging on the wall.
Zagreb Funicular: the strangest way to Gradec
If you're walking on Ilica, then at some point you'll see the most unusual way to enter Gradec - a funicular. A what? Well, it's a cable railway used specifically for slopes. Counterbalancing each other, two cars, connected by a cable simultaneously rise and descend. Zagreb's was built in 1890 and has a 66-metre track. Indeed, some reckon it to be the shortest public transport route in the world. Find the entrance in Tomićeva street.
Strossmayer promenade (Strossmayer šetalište): the prettiest way to Gradec
At the top of the funicular or Zakmardi's stairs, you'll meet the delightful Strossmayer promenade. In fact, the pretty walkway runs the entire south-facing edge of Gradec. As a result, its heightened position above the cityscape grants some of the very best Zagreb views. However, this elevated parade does not appear magically from thin air. Actually, it has a beginning on Mesnička ulica.
You'll find it next to cult bar Kulturni Centar Mesnička (KCM) and the west entrance of Grič tunnel. If you take this route to Gradec, then you'll be rewarded with great views across the centre's west. At the top, a peaceful, tree-lined avenue awaits you. During several extended periods in the year, it's filled with entertainment and 'kućice'. From these small, wooden huts, you can buy drinks or street food and linger on the promenade.
Also, choosing this Gradec entry allows you to delay your wander on 'Stross'. Instead, take a left up into charming Grič park (above) and find the fountain and palace there. Afterward, lose yourself momentarily in the small, old alleyway in the park's northeast corner. No sooner have you emerged, than you'll find another park to enter, Bela IV, on your right. After that, you can drop down and begin sauntering on Strossmayer. If the popular viewpoint next to the funicular is busy, then go find poet AG Matoš. So enjoyable is his panorama, that he actually never leaves this spot.
Essential landmarks of Gradec
Lotrščak tower
Built in 1266, Lotrščak tower guarded the southern side of Gradec. Actually, it served a much more everyday function too. Because it was from here that a bell rang out each evening to mark the closing of the town gates. However, the cautioning sound you'll hear it issue today is far more forceful. You'll notice it as soon as you arrive in Zagreb. In fact, if you're in the centre at midday on your first day, you might jump out of your skin. Certainly, the pigeons do. It's a ceremonial cannon - Grički top - that has been fired at this time every day for the past 140 years.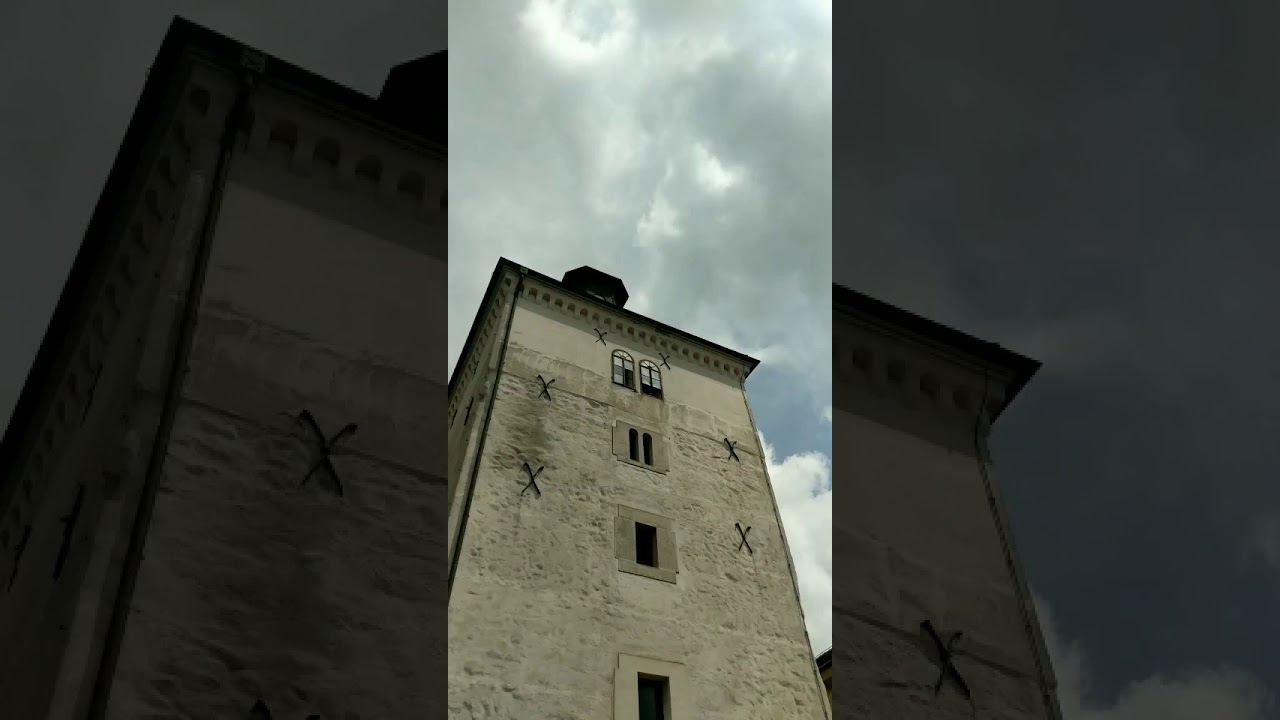 St. Mark's church
So bright are the coloured tiles atop St. Mark's Church, you'll think it was made just yesterday. In truth, this church dates back all the way to the 13th century. Although, the colourful roof was only added in 1880 by Friedrich Schmidt and Herman Bollé. The two bold tiling emblems are the coat of arms of Zagreb (right) and the medieval kingdom of Croatia, Dalmatia and Slavonia (left).
Get up close to the Gothic portal above the church's southern entrance. Inside, you'll see 11 Gothic stone sculptures and 4 Baroque wooden sculptures. Specifically, they depict the apostles, Jesus and Mary. If you go inside, then you'll see sculptures by Ivan Meštrović and artworks by Jozo Kljaković and Ljubo Babić.
Grič tunnel
The 500 metres of Grič tunnel runs underneath the entirety of southern Gradec. Actually, it was built during the Second World War as a thoroughfare safe from bombing. Afterward, it fell somewhat into a state of disrepair.
To begin with, its revival came when it hosted a 90s rave party/fashion event. One can only wonder how the fascists who commissioned it might have felt, seeing it repurposed in such a manner. On this occasion, sweat dripped from already damp walls onto the hedonists, homosexuals and fashionistas beneath. Since then, it has been thoroughly cleaned up and renovated. Subsequently, this unique passageway is now open day and night. Markedly, it has also become a much-loved feature of Zagreb Advent.
Kaptol
Compared to Gradec, the Kaptol part of Upper Town feels more open, less defined. Perhaps it's because most of Kaptol's defensive walls and gates were removed in the 19th century? On account of the Ottoman threat subsiding, it was decided the fortifications weren't needed. As a result, the three must-see features of Kaptol are not all at hemmed in. In fact, you get a wonderful sense of freedom as you walk around them.
Dolac
The mother of all markets in Croatia, Dolac has to be experienced by all. Seasonal colours explode onto the benches of the daily vendors. You'll find many of them are small scale producers. Undoubtedly, the focal point is the upper, outdoor section. If it grows in Croatia at this time of year, then you'll find it here. Both fruit and vegetables, nuts and cheese you'll see on display. Also, homemade products like ajvar - a condiment using peppers and eggplant. In the north east corner, there's an indoor fish market, with fresh daily deliveries from the Adriatic. Underneath and inside, twice as many stalls again; butchers; bakers; wineries; dairy. If you want to see the pick of the bench, then try to go before midday.
Opatovina
A little gem, hidden in the city centre, Opatovina is a street full of cafes, bars and flowers. you'll walk beside informal market stalls, selling t-shirts, souvenirs or leather jackets. In a way, it's quite similar to Tkalčićeva, which runs parallel, immediately below. Except here, less noise, less rush, fewer foreign voices. Indeed, there's a distinctly local feel to Opatija and its craft beer-selling bars. Even more, you'll feel that vibe when you reach the hidden park at the street's end. Usually, it's filled with local families, its walls adorned by the colourful street art of city residents. Find it by taking the stairs up at the north of Dolac, or by rising up east from Tkalčićeva.
Zagreb cathedral
Without question, one of the most distinct and spectacular sights of the city. Zagreb cathedral is iconic, its story intertwined with that of the Croatian capital. As a result, we've afforded the cathedral its very own section (below).
The traditional gas lanterns of Upper Town Zagreb
246 gas lamps light the streets of Upper Town Zagreb. Although, in the 1930s, Zagreb was lit by over 1975 of them. In 2020, Total Croatia followed Saša Alavanja - one of Zagreb's two lamplighters - on his daily rounds. If you want to get a better feel for Upper Town Zagreb, then check out the video we made (below).
Tkalčićeva: Separating Gradec and Kaptol
Offering a more casual, youthful promenade than Lower Town's Spica, Tkalčićeva buzzes with backpackers bars, cafes, restaurants and gift shops. Notably, the later it gets, the younger the crowd seem to be. Particularly, in warmer months, visitors pack this street. Earlier in the day, it's a popular place to sit and eat or take coffee. You'll find a wonderful atmosphere on the tables outside. Informal dining - pizzas, burgers or falafel - beneath the overhang of age-old dwellings. Yes, people still live in some them. So, maybe try to keep the enthusiasm down after midnight.
2) Catch one of Zagreb's amazing events or festivals
As the centre of Croatian cultural life, there's always something happening in Zagreb. Indeed, you can visit at any time of year and doubtless you'll find some special event happening in a city park or square. From food and drinks festivals to arts & crafts, fine art exhibitions to rock festivals, Zagreb has it all. And, they're one of the best reasons to come visit. Here's a look at just a few highlights.
Unique Zagreb events 2021
Murtić 100
Celebrating 100 years since the birth of, arguably, Croatia's greatest abstract painter. In his lifetime, the work of Bjelovar-born artist Edo Murtić received global recognition. Indeed, with his relatively early years (1958), he was already participating in the three biggest events in the world of contemporary art. Namely, the Venice Biennale, the Carnegie Prize in Pittsburgh, and Documenta in Kassel.
By the 1980s, Murtić was internationally recognized as one of the leading abstract painters from the socialist world. Living until 2005, he produced a vast amount of work in many different mediums. Accordingly, you'll this major retrospective on the walls of the prestigious Croatian Association of Artists (HDLU) at the Meštrović pavilion.
Date: until 18 July 2021
LMF Festival
Lead by internationally renowned DJs, this one-day electronic music festival takes place in the verdant surroundings of Jarun. More than 40 DJs including Marco Carola, Luciano and Claptone will entertain in the sunshine and after dark. Expect the partying to continue through the night in city nightclubs.
Date: 21 August 2021
Tickets: 320 kuna here
Annual Zagreb events
Inmusic
Without doubt, INmusic is Croatia's premier alt rock and pop festival. Previously, the likes of Iggy Pop, Kraftwerk, The Prodigy, Nick Cave and New Order visited. They've joined extensive line-ups, playing across two main stages and over three days on an island at Jarun. By day, locals and international festival fans meet beneath the park's shading trees. Following the sun set, lights from the stages look spectacular. After the headliners take their final bows, partying continues for a few more hours inside nightclub tents.
Next date: 20 June to 22 June 2022 (with headliners The Killers, Nick Cave, Deftones).
Tickets: €70 from here (camping sold separately).
Advent: Zagreb Christmas Market
Consistently voted the best Christmas market in Europe, Zagreb Advent takes over the whole city. Cute, wooden Christmas huts line the streets, selling gifts, souvenirs, food, drinks, arts & crafts. Music and the scent of mulled wine fills the air. Smiles on the faces of children in thick jackets, hats and gloves are lit by a million colorful lights. They adorn every park and walkway in the city, framing ice rinks, nativity scenes and bandstands overflowing with entertainment. Genuinely, the pictures don't do it justice. If you want to know just how good Advent in Zagreb is, then you just have to come.
Next date: 25 November 2021 - 7 January 2022
Zagreb Dox
An international documentary film festival and competition, Zagreb Dox is unique in Croatia. Previously, around 300, 000 people have visited this well-curated event over its 15+ year lifespan. Usually, around 100 films of varying length and content get shown. More often than not, they share a similar high pedigree.
Next date: 2022
Zagreb Film Festival
Celebrating its 19th year in 2021, Zagreb Film Festival is a national highlight of autumn. Often straying far from the mainstream, it instead relies on the deft selection of experienced organisers. Of course, you'll definitely see star names in some opening credits. But, also you'll be surprised by international entries which may otherwise have gone overlooked. Also, you'll find their themed side programs a real highlight.
Next date: 14 November - 21 November 2021
3) Experience Zagreb after dark: Restaurants and Nightlife
Restaurants
The best restaurants in Zagreb
Noel
Not only is Noel Zagreb's first Michelin-starred restaurant, but also currently the only one. Beyond the beautiful presentation and skill, there's an authentic Croatian-ness to many dishes served here. Furthermore, the restaurant itself is absolutely beautiful. Accordingly, don't go underdressed.
Nav
Fresh, seasonal ingredients, beautifully manipulated with vivid imagination and wild, contemporary techniques. You'll find few restaurants in the land trying to reinvent Croatian cuisine as hard as Nav.
Restaurant ReUnion
The acclaimed Restaurant ReUnion offers authentic local cuisine using fresh ingredients brought daily from the nearby Dolac market. You'll find Mediterranean and continental classics deftly cooked here, then presented with extreme finesse. Genuinely, black risotto, mlinci, schnitzel and pasta rarely taste this good. Also, you won't want to leave this exquisitely decorated space.
Best international cuisine
Namaste
Situated across from Studenski Dom Stjepan Radić, a ten-minute tram ride from the city centre, Namaste is 100% the real deal. Wholly authentic Indian cuisine, specialising in the menu of the subcontinent's south. Also, if you're vegetarian, you'll find yourself well catered for here.
Curry Bowl
Situated over 1400 kilometres off the coast India, Sri Lankan cuisine is wholly different from anything you'd find on the mainland. Curry Bowl's salads, soups and curries are the perfect introductions to the island's distinct dishes. Although, for first-time visitors, we strongly recommend trying the satisfying kotthu. In detail, it's a dish of chopped vegetables and egg, flavoured with garlic, ginger, lemongrass, curry leaves and spices. You only have to choose which meat, if any, you want to include. (Tip: chicken with cheese as an additional extra is the best).
La Turka
Generally, you'll find the popular baklava in Croatia made with a distinct Bosnian edge. Specifically, it's made with walnuts and lots of sugar syrup. At La Turku, they do things very differently indeed. Because theirs is truly authentic Turkish baklava, made with finesse. Made with a fine balance of syrup, pistachios, pastry and ghee, their baklava is both satisfying and moreish. Actually, you can now try them at two places in town, the centre and Kvaternikov trg.
Vegetarian and vegan restaurants
As shown above, Falafel, etc. probably do the best falafel in Zagreb. You'll only have to choose between original, coriander, beetroot or sweet potato flavour. Enjoy them in a salad or a wrap. Also, they have delicious homemade potato fries and sweet potato fries and everything's vegan. If you want to read more about Falafel etc, then read our dedicated page here.
Our sister site, Total Croatia News recently published the definitive guide to Zagreb vegan restaurants and food. If you want to see the full range of options, then look here. Also, if you want to see what local specialties there are for vegetarians, look here.
Balkan grill and barbecue
Exotic food is all well and good. But, if you come to Zagreb and just eat burgers, pizza, sushi and Chinese, you're missing out. Because Balkans are the grill and barbecue meat masters. Certainly, you shouldn't leave Zagreb without pigging out on a mixed meat platter with a friend. Indeed, so beloved is this local specialty, the standard is generally high in every place. If you want to taste Balkan grill at its best, then you might want to consider one of the following; Pri Zvoncu; Pivnica Budweiser; Batak; Sofra; Magazinska klet; Bistro MZ (aka Kod Srbina).
The best kebab in town
Actually, the best kebab in town is not a kebab at all. In fact, it's the mixed chicken and grilled vegetable gyros from Fantastic Street Food in Prečko. But, luckily, you don't always have to travel out to this far neighbourhood to try one. Because you can order home delivery from Wolt here. Also, you'll often find them, sometimes using their old name - Fantastic Food and Drinks - at many outdoor events. As shown above.
Best Bars in Zagreb
Canopy Central Bar
You'll find authentic local cuisine with fresh ingredients and a real taste of the neighborhood at Canopy Central Bar. Specially selected craft beers, local spirits and excellent wine will all tempt you from the menu. So too, their signature cocktails. All you have to do is choose between the incredible interior, or the sun dappled terrace.
Best wine bars
If you want to get acquainted with excellent Croatian wine, then try Pod Zidom Bistro.
Unusual bars
The bar at Swanky Monkey Hostel is on several levels, has a great vibe and a mini swimming pool. A Most Unusual Garden is just that, complete with a treehouse. Mr. Fogg is themed around Jules Verne's 'Around the World in 80 Days'. By comparison, 22000 Milja is themed just around Verne's 20, 000 Leagues Under The Sea. Pločnik has a nightclub downstairs and a great record store upstairs.
Best bars for rock music fans
Legend Riders Blues Bar; Dobar zvuk; Valhalla Beer Bar; Bikers Beer Factory; Vintage Industrial Bar.
Bars popular with university students
Krivi put; Kulturni Centar Mesnička; Bacchus Jazz Bar; K&K Milčec.
Best Zagreb bars for craft beer
If you want to sample Zagreb's craft beer, then read all about it in our dedicated section below.
Zagreb nightlife
The best nightclubs in the city include: Katran; Mocvara; Tvornica Kulture; Aquarius; Boogaloo.
4) Enjoy the great outdoors: sports, beaches, parks and recreation in Zagreb
Where to feel the sunshine and fresh air in Zagreb
Up against the brilliant city centre parks of Zagreb, there are five main areas of greenery perfect for recreation.
a) Jarun Lake
Rollerbladers whizz by on smooth lakeside surfaces, passing joggers and dog walkers. But, though purpose-built for sports and recreation, Jarun Lake doesn't have to make you break a sweat. Indeed, many go just to stroll. Others barbecue in designated spots or just sit idly on a cafe terrace overlooking the water. Sometimes, rowers or windsurfers might glide by. Find Jarun just to the west of the city centre.
b) Maksimir park
Founded in 1787, Maksimir park was the first large public park in South-Eastern Europe. Indeed, it holds a considerable 316 hectares of natural forest, lakes, sculpted lawns and pretty pathways. Gladly, you'll here lose yourself for hours. Bring a picnic or a ball game and genuinely, you'll not want to leave. Also, you'll find Zagreb Zoo here. Any tram for Dubrava or Dubec will take you to Maksimir.
3) Bundek
Designed specifically for recreation, in summer, some swim and sunbathe around Bundek. In truth there are perhaps better places in Zagreb to swim. However, the park has some real highlights in its promenade, cycling and roller-skating path. In the surrounding area you'll find generous green spaces. Also, it's the host site for some spectacular events. Specifically, the International Firework Festival and autumn's Rujanfest. Find it in the northeast of Novi Zagreb.
4) River Sava embankment
Just short of 1000 kilometres in length, the Sava is a mighty river. In fact, so powerful that on more than one previous occasion, it flooded Zagreb. But, such floods are long in the past, thanks to the flood defences and embankments built along its length. A pleasant by-product of this action was to create amazing stretches by the river for recreation. Both runners, cyclists and walkers - sometimes with dogs - love these riverside spaces.
5) Medvednica mountain and Sljeme
Everywhere you're standing in Zagreb, Medvedica mountain looks down on you. Up against Zagreb cathedral, deciding which is the more iconic symbol of the city is a tough call. At 1035 metres, Sljeme is the highest peak. Although, it wasn't always so high. Because Medvednica actually used to be an island within the ancient Pannonian sea. These days, 228.26 km2 of Medvednica is a protected Nature Park. And about 63% of it is covered with forest. You'll find walking and hiking trails snaking throughout. Also, some great rustic restaurants in the vicinity, the perfect reward after descent.
Zagreb's best beaches
You'll find Zagreb's best city beaches located at Jarun lake. Also, you can try Bundek or find a spot by the Sava. However, if you prefer more natural environs, head out of town. You'll find beaches and great swimming on the Mrežnica river, near Karlovac.
Sports and activities in Zagreb
Generally, Croatians love their sport. Both as spectators and as participants. What's more, nowhere is this truer than in Zagreb, where residents maintain the healthiest lifestyle in the country. And, you're more than welcome to join in.
If you want to get involved in basketball, then you have several options. Try sports halls SŠD Dubrava, SŠD Peščenica, SŠD Trnsko or Košarkaški centar "Dražen Petrović". Actually, you'll find some of these sports halls equipped for a variety of activities. Specifically, wrestling, volleyball, handball and karate. If you want to go kayaking, canoeing or windsurfing, then contact RŠC Jarun. The most popular place to go ice skating for fun is the large outdoor rink in King Tomislav park during Advent. But, if you can't wait that long, or if you want to play ice hockey, then contact Klizalište Velesajam.
Cycling
You'll find much of Zagreb covered with cycle paths. In fact, there are a whopping 220 kilometers of cycle paths in Zagreb. As a result, a huge number of city residents use them to get from A to B. Both eco-friendly and fast, cycling is also one of the best ways to learn the city districts. Pedestrians watch out! Different from many other cities, Zagreb cycle paths are located on the pavements, not the roads. If you stray into the cycle path, then that's on you, not the cyclists. Actually, don't be surprised if a loud ringing of a bike bell comes in your direction.
If you view cycling as more than a mode of transport, then Zagreb will engage you. Head up to Medvednica and tackle the gradient. Or, better still, head into Zagreb County and explore. If you want more info, then try one of the many cycling clubs (Biciklistički klub) in the city. Or, the Tourist Boards detailed below.
Hiking
While Zagreb itself is quite flat, in Medvednica you have the perfect spot for hiking. If you want a recreational walk, then wander through the forested foothills. But, if you prefer a bigger challenge, head for the higher peaks.
Rowing
If you want to go rowing in Zagreb, then speak to Veslački Klub Zagreb. Not only do they train on Jarun, but also organise all rowing events here.
Skiing
If you want to go skiing in winter, then snow is usually guaranteed on Medvednica. Actually, you'll find the ski run on Sljeme, Medvednica mountain's highest peak. Anyone can turn up and ski. But, if you'd prefer more info before you plan your trip, contact Skijalište Sljeme.
Golf
Did you know that Croatia's best golf course can be found right here in the city? You'll play on pristine lawns next to the backdrop of the Sava river at Riverside Golf. Although, the river isn't the only water here - watch out for the hazard pools!
Running
If you come to Zagreb for a run, then you're joining an increasing number of international guests who chose to. Although, with quite high summertime temperatures, you'll find the best races in spring, autumn and winter. Zagreb Night Run is a 10-kilometer dash through the city's autumnal streets. Actually, the more serious Zagreb Marathon usually takes place just a week or so later. With more Santa hats than a Father Christmas convention, early December's Zagreb Advent Run always raises smiles. If you prefer more solitary excursions, then here's a good guide to running in Zagreb.
Swimming
If you're looking for where to go swimming in Zagreb, then you have several options. Actually, the best ones depend on the time of year. If you're here in cooler months, then try the large indoor pool at Utrine, Novi Zagreb or Sportski park Mladost. But, if it's warm, definitely try the large outdoor pool Šalata. Actually, you won't believe just how close this oasis of green and recreation is to the immediate city centre. If you prefer more natural waters, then head out of town. Certainly, that's what most like-minded locals do. Specifically, they head to the pools and waterfalls of Mrežnica river, near Karlovac.
Spectator sport events in Zagreb
Snow Queen
Taking place in early January, Snow Queen (Snježna kraljica) is a World Cup alpine ski race on Medvednica. Contestants run down 200 metres, trying to win one of the biggest cash prizes on the World Cup circuit. Up to 25,000 spectators come to watch. Not least, because it's untypical to have such a major ski tournament so close to a large urban area.
5) Visit a national institution: Zagreb museums, galleries + more
Markedly, Zagreb is home to almost every national museum of Croatia. If you're looking for the best art and architecture, photography and sculpture, then you'll find it here. Actually, there are so many national monuments and museums in Zagreb, you could easily write a small book in covering each. Therefore, following are just some of the highlights you can visit.
Meštrović Atelier
Croatia's most famous sculptor earned global recognition. Indeed, you'll today find his works helping to define the great cities of Split, Chicago, Belgrade and Zagreb. You're walking in the footsteps of David Bowie, no less, when you wander round the sculptures here.
The Croatian Museum of Naive Art
Everywhere you look in Zagreb - indeed, in Croatia - you'll see the influence of somewhere else. In the grand city architecture, the unmistakable touch of Austro-Hungary. On the graves of the great at Mirogoj cemetery, Germanic or Hungarian surnames. Indeed, if you want to learn a truer, more authentic history of the Croatian people, then you must leave Zagreb. Instead, you have to go to the village. Except, you don't. Because at the Croatian Museum of Naive Art, the village comes to you.
Holding a collection of incomparable national importance, this museum delights by depicting Croatia from an authentic, untainted perspective. Although untrained, the artists showcased have produced some of the brightest, most beautiful and unique works in the Croatian canon. Also, there's an endearing honesty and clear love in their interpretations of Croatia's landscape and life. Although the museum is currently closed while moving premises, Gallery Klovićevi Dvori is showcasing the collection in 2021.
Mirogoj Cemetery
A cemetery is rarely among the must-see attractions of a city, but Zagreb's Mirogoj is. Not only is it the city's main cemetery, but also the national cemetery. Indeed, you'll find the most notable Croatians from the past 150 years resting here. Oxidised copper domes sit above the central building and along its imposing outer walls. Actually, one of central Europe's then most notable architects, Hermann Bollé, built them in the late 19th century. If you find yourself in Zagreb on All Saints Day (November 1st), then join the masses visiting. You'll witness a sea of candles and a special, solemn remembrance.
Museum of Broken Relationships
Previously, this museum existed as a temporary art installation. However, today the Museum of Broken Relationships is one of Zagreb's most unusual and popular museums. Its displays take visitors through sometimes funny, sometimes heartbreak mementos of relationship break-ups. Donated by the public, the display items range from smashed household objects to love letters, photographs and an axe! Alongside many, notes of frantic explanation.You shouldn't laugh. But, sometimes you can't help it.
Where to stay? Hotels, Accommodation, Hostels
Canopy by Hilton Zagreb
Just a few steps from Zagreb main train station (Glavni kolodvor), Canopy by Hilton Zagreb is like few hotels you'll have ever seen. A boutique, local hotel with all the class and sophistication of the highest-rated Hilton. Within the worldwide portfolio of high-standard Hilton hotels, the Canopy brand is distinct. Currently, there are only four Hilton hotels in Europe within this class - Paris, London, Madrid and Zagreb.
In order to attain this grading, the hotel must lie truly within the heart of its chosen, special city. With King Tomislav park just a few metres away - one corner of the unmissable Lenuzzi's Horseshoe - that's certainly true of Canopy by Hilton Zagreb.
Enjoy the Zagreb urban lifestyle
Canopy is Hilton's urban lifestyle brand, aimed towards those who love to get the most from the city experience. Accordingly, they immerse themselves in the feel and flavour of their host city in preparation for your visit. You'll see this incredible bond everywhere in Canopy by Hilton Zagreb. On the walls of its luxurious, ultra-modern rooms, intriguing images of Zagreb's past. At the spacious, welcoming bar, well-selected Croatian wines and craft beers. On the daily a la carte menu of its highly-recognized restaurant, the finest, locally sourced and seasonal ingredients.
In order to explore the city, Canopy by Hilton Zagreb offers free bicycles. You'll find the city perfect to explore this way. Meetings are just moments away, and all the main attractions. You'll get a great night's rest in the peaceful rooms. When you wake, an artisanal breakfast awaits, preparing you for your day in the city. Amenities include a 24-hour gym. And a rooftop garden terrace. Like the bar and restaurant here, they're the perfect place for you to bring a guest you'd like to impress.
Hilton Garden Inn Zagreb - Radnička
Situated in a peaceful, tree-lined avenue, on the edge of Zagreb's business district, Hilton Garden Inn Zagreb - Radnička offers a comfortable, relaxed and convenient stay. Room prices are extremely affordable, while the hotel maintains the high standards upon which the Hilton brand is built. It's less than 1.5 kilometres from here to Canopy by Hilton Zagreb, in the heart of the city. Also, you're just a few steps from Zagreb's intercity and international bus station. After walking briefly down Radnička's corridor of trees, you can also pick up city tram lines there.
Perfect for couples on a weekend break or business visitors, amenities at Hilton Garden Inn Zagreb - Radnička include a fitness centre, private parking, currency exchange and a bar. 24-hour front desk and room service will see to your every need. You'll take your fresh buffet breakfast in the spacious ground floor restaurant. Afterward, many guests enjoy relaxing on the terrace with coffee. Also, in warmer months, it's a pleasant spot for informal meetings. For those who must dedicate more time to work, the hotel offers a business centre, smart, well-equipped meeting rooms and WiFi.
DoubleTree by Hilton Zagreb
Situated in the heart of Zagreb's modern business district, just a few hundred metres from Hilton Garden Inn, the DoubleTree Hilton Zagreb offers an elegant and modern city stay with excellent amenities. You can enjoy an indoor pool, well-equipped, ultra-modern fitness centre, Turkish bath and a Finnish sauna which, like many rooms, offers panoramic views across the city. A variety of massages and beauty treatments are offered in the spa centre.
Bright, comfortable and spacious rooms and suites have wide, floor-to-ceiling windows, stylish furniture and are elegantly decorated. LCD satellite TV, free WiFi and air conditioning come with each.
Downstairs, you'll find the renowned Oxbo Grill Restaurant&Bar offers. Gastro fans will enjoy choosing dinners from the contemporary a la carte menu. A large selection of breakfast options are served here each morning. If you want to go shopping or explore the historic city centre, then DoubleTree Hilton Zagreb is perfectly placed. The hotel is directly on the city tram system. Subsequently, you can be anywhere in Zagreb in just a few minutes. Moreover, Zagreb Airport is just 15 km from DoubleTree by Hilton Zagreb.
For more hotel choices in Zagreb, click here.
Zagreb also has a lively hostel scene. Check out availability here.
Looking for private accommodation?
Zagreb cathedral
Not only is Zagreb cathedral one of the city's most iconic buildings, but also Croatia's. In fact, it is the largest sacral building in the country. Until the 2020 earthquake, it was 105 meters high. Afterward, following the removal of upper sections of its towers, it stands at 92 meters. Although, this is just the latest amendment to the changing face of the Zagreb cathedral.
History
Zagreb cathedral's history can be traced back to 1093 when King Ladislav founded the Diocese of Zagreb. Upon doing so, he promoted an existing church to the status of a cathedral. After his death, work on a new cathedral began on the site where today's now stands. Indeed, traces of this cathedral lie within the current one. Specifically, the current bell tower reuses materials from that. Also, the space between this point and the shrine are original.
A building under siege
Finally, the cathedral was finished in 1217. But, city residents didn't get long to enjoy it. Because invading Mongols destroyed it in 1242. Afterward, Bishop Timothy (1263-1287) began its reconstruction. Only then did the cathedral begin to display the Gothic style for which it is today known.
At the end of the 15th century, a new threat appeared on the immediate horizon; the Ottomans. As a result, Bishop Thomas Bakač Erdödy ordered fortification walls to be built around the cathedral. Completed in 1517, some of them walls are still intact.
In 1624, lightning started a fire that destroyed the cathedral's roof and vault. Again, in 1646, the roof was destroyed by fire. But, this time, the heat was so fierce it melted the cathedral's bells and cracked the vault walls. Little wonder that, in 1665, it was decided to cover the roof with tiles.
Herman Bollé and the two towers
From the beginning of the 19th century, the cathedral was in a serious state of disrepair. Yet, it was not until 1878 that Viennese architect Friedrich Schmidt was sent to Zagreb to begin restoration work. Alongside him, he brought a collaborator, Herman Bollé.
In 1880, the Zagreb earthquake damaged the cathedral tower beyond repair. Furthermore, the main nave collapsed entirely. Herman Bollé was promoted to oversee the operation of its reconstruction. Courting controversy at the time, he chose to rebuild it in a neo-Gothic style. Only then, did Zagreb cathedral get the two spires for which it is now known.
Dinamo Zagreb
Without question, Dinamo Zagreb is the most successful club in Croatian football. Both in domestic competitions and on the international stage, they have achieved the most. As a result, in Zagreb, they draw the near-fanatical support of locals. If Croatia had a national game, then it would be football.
The club was founded as FD Dinamo in 1945, replacing a successor HŠK Građanski banned the new Yugoslav communist regime. Although slightly tenuous, most Dinamo fans trace their club's history back to Građanski's founding in 1911.
History in Yugoslavia
Entering the Yugoslav First League in its inaugural 1946–47 season, they finished as runners-up. But, in the second season, they finished as Yugoslav champions. Up until the 1991 break up of Yugoslavia, the club won three more league titles and seven Yugoslav Cups. Thereafter, the club resigned from the Yugoslav league. Up to the present time, they are the only Croatian club to win a European trophy. Specifically, they did so in 1966–67, beating Leeds United to the Inter-Cities Fairs Cup. Also, they finished as runners-up in the same competition's 1963 tournament.
The Croatian league era
After Croatia declared independence, the club changed its name. Specifically, in 1992 they became HAŠK Građanski. Previously, the name HAŠK had been used by a rival club to Građanski and they too were disbanded by communists. In truth, it was a politically motivated muddle. Accordingly, it wasn't long before they were again renamed. In 1993, they became Croatia Zagreb, just in case anyone wasn't aware where they were from. Fans had to live with this name for a further seven years until sense finally prevailed. In 2000, they once again became Dinamo. Out of 30 seasons since the founding of Croatian league football, Dinamo have won the first league 22 times. Additionally, they regularly play in Europe, either in Champions League qualifiers or the Europa League. On several occasions, they have reached the Champions League group stages.
Maksimir stadium
Dinamo Zagreb's home stadium is Stadion Maksimir. You'll find it to the east of Zagreb city centre, opposite Zagreb's largest urban park, also called Maksimir. It holds around 35, 000 people. If you're attending a game there, then you can take any tram for Dubrava or Dubec. Although, be aware, police sometimes halt the passageway of trams on full capacity stadium games. Subsequently, you might have to walk half the way. Accordingly, leave enough time to reach the stadium. Or, take a taxi.
University of Zagreb
Both the oldest and the largest university in Croatia, the University of Zagreb is also the oldest continuously operating university in Southeastern Europe.
History of Zagreb University
In 1861, influential Croatian Bishop Josip Juraj Strossmayer proposed the founding of a University to the Croatian Parliament. After that, Zagreb waited another 8 years for the Austrian emperor to allow its establishing. Finally, the Act of Founding was passed in 1874, and the Royal University of Franz Joseph I was officially opened.
University of Zagreb today
The University of Zagreb is today composed of 29 faculties, 3 art academies and 1 university center. It has more than 70,000 students, mostly from Croatia. However, with an increasing number of courses available in English, the university's foreign student body increases every year. In particular, a growing number of second or third-generation members of the Croatian diaspora return to their ancestral home for studies. Indeed, there are special programmes available to facilitate this. Since 1874, more than 200,000 students have received a bachelor's degree, more than 18,000 a master's, and more than 8,000 a doctorate from the University of Zagreb.
Top 5 Instagram spots in Zagreb
Lotrščak tower. Take a picture at the viewing platform, next to the top of the funicular, with the entire city as a backdrop.
Strossmayer promenade (Strossmayer šetalište). A beautiful tree-lined route.
Statue of St. George. Nowhere captures the variety of Zagreb better than here. With colourful flowers at his feet, a medieval gate to one side and a descending, cobbled street to the other.
Vidikovac. You'll find a cafe terrace at the viewpoint tower in Maksimir park. Photos taken from here have a backdrop of the elegant, long avenue that leads here.
Upper Town stairs (stube). Iconic and unusual, your location will be instantly recognisable if you're photographed on any of the long stairways descending from Upper Town.
Expert exploring: Best tours
As in any city, there are many tours you can take. In truth, Zagreb city centre is actually quite compact. Subsequently, taking a guided tour ensures you don't miss any special nuggets of history as you walk. Although, on some tours, you don't even have to walk. Try something different, and go on the Ghosts and Dragons Tour. You'll learn a lot about the history of the city.
Alternatively, take a tour that will teach you some Croatian. Also, it might bring you closer to the city's history and culture. If you're not that into walking, then go for the Blue Line Tour. You'll go to some of the most remarkable places in Zagreb on public transport. If you prefer a more hand-tailored tour by car, then take this tour in an old Yugo car. Not only will Yugocar Adventure take you through Zagreb, but they can also help you explore Zagorje or Plitvice.
Zagreb shopping: souvenirs, local food, local craft beer
Wondering what to try or buy for yourself while in Zagreb? Or, what to take home as a gift? Here are a few ideas.
Craft beer
Croatia's craft beer scene has exploded within just the past 10 years. Certainly, you have a lot more choice these days than the bog-standard lagers of a decade back. Both in every county and almost every Croatian town you'll now find a craft brewer. But, the capital remains the epicenter of the craft beer scene. If nothing but craft ale will do, then try these bars Beertija; Harat's; Pločnik; Hostel Swanky Mint; Bikers Beer Factory; Vintage Industrial Bar. Although, these days, you'll likely find at least one craft option in almost every decent Zagreb bar. Furthermore, some Zagreb breweries have their own establishments.
Try locally-brewed beer
Not only is Zagreb's craft beer scene Croatia's largest, but also its oldest. Indeed, Pivovara Medvedgrad has been brewing their own beer in the capital for over a quarter a century. If you want to try them, then head to Ilica, Tkalčićeva, Samoborska, or Vukovarska. Although, these days, you'll also find their bottles in shops.
Secondly, the next to appear in Zagreb was Zmajsko (Dragon). Both their stout and pale ale are worth trying and you'll see them in many places. Launched by a former Zmajso employee, Pri Marius has won massive plaudits over recent years. In particular, you should definitely keep an eye out for their brand. Also, try to find Nova Runda who, in regular years, sometimes hold events at their Zagreb brewery. Generally, you'll find their great beers, such as the pale ale, on draught.
Not only is the Garden Brewery linked with Croatia's music festivals, but also it was the country's first canned craft beer. Subsequently, they established themselves as Croatia's largest exporter of craft beer. You'll find their 33cl cans in many supermarkets. But, they also have draught at their brewery taproom in the Žitnjak suburb.
Traditional food of Zagreb
In the first place, you simply have to try Štrukli. Both baked and boiled, you'll find this famous local favourite everywhere (baked is best). Layers of pastry and a mixture of cheese and sour cream combine to make this comfort food. If you're lucky, then you might get to try one from Velika Gorica, Zagreb County, which uses local truffles.
Secondly, you should go for 'gablets'. Actually, this isn't in itself a dish, more a style of meal. Gablets are small dishes, served in restaurants at budget prices during lunch. Inasmuch as they are small, they are perhaps comparable to tapas. But, usually, the dishes are more filling - enough for a light lunch. Not only are they an inexpensive choice, but also gablets are a great way to try local dishes. In particular, you'll see 'grah' - beans, cooked with bacon and/or sausage - a frequent option.
Typical Zagreb souvenirs
What to buy as a typical Zagreb or Croatian souvenir? There are plenty of exciting choices.
How to meet or be a Zagreb local
Go 'on' coffee
Špica is a cultural phenomenon worth noticing. Likewise, it's one you should get involved in. Every Saturday, around 10 am, Zagreb city residents put on their coolest clothes. Thereafter, they come to Donji grad for a cup of coffee. After strolling the streets awhile, they sit in full view on a cafe terrace. Usually, with a friend or friends. Of course, this is more than just coffee and catching up. Above all, watching people and being watched are why you're here.
If you're invited to go 'on' coffee by a Croatian, then go. But, don't underdress and leave enough time - Zagreb residents can easily spend an hour drinking one small coffee. Actually, coffee is far from the most important part of going 'on' coffee. So, don't be surprised if no coffee gets ordered and a request for beer is made instead.
Best day trips
Explore Zagreb County
Both by bicycle or by car, a bolt from the centre into Zagreb County is one of the best escape. You'll find countless unique options in every direction, the county is vast. If you want to explore a more traditional life, then the villages of the county are perfect for this. You'll discover architecture and farming that have remained the same for centuries. If you want a real step into the wild, then visit Žumberak and Samobor hills. Perfect for hiking, the very pretty, protected Nature Park is on your doorstep (see below). Take a trip to a village festival and see how they celebrate local produce, arts & crafts. Or, make your way along the Wine Roads of Zagreb County. Did you know some of Croatia's rarest whites and best sparkling wines are from here?
Plitvice Lakes National Park
Just short of 140 kilometres away, it takes around 2 hours to get to Plitvice Lakes from Zagreb. But, it's worth the travel to reach Croatia's best-known and most visited National Park. At Plitvice, you'll find a series of lakes, descending dramatically via many waterfalls. Walkways and boat rides help you get close to the spray. By comparison, in the rest of the near 300km2 park, you'll find dense woodland and undisturbed nature. If you want to learn more about the park, then read our guide.
Samobor and Žumberak Nature Park
Certainly, Samobor is one of the more popular weekend getaways from Zagreb. Not only is the town itself very pleasant, but also it sits by a beautiful stretch of rolling hills. Indeed, many find the unchallenging gradients but spectacular scenery of Žumberak perfect for hiking. Also, the town itself is rather famous for a few distinct, local dishes. Both Samobor and Žumberak lie within the previously mentioned Zagreb County. But, such is the charm of the town and the expanse of nature, you should dedicate a full day for visiting here. If you want to learn more, then read our guide.
Karlovac
Trace the star shape of the Habsburg fortress that was the genesis of Karlovac. Just 40 minutes from Zagreb, it's a wonderful town to walk around. Both promenades and parks form your route through the centre, passing by rivers. If you prefer more than a stroll, then you can visit several great museums or get active on the river. Also, the town is famous for its events, such as the beer festival Dani Piva. If you want to learn more about charming Karlovac, then read our guide.
Zagorje
A rural landscape, filled with rolling hills. On many, you'll find neat rows of ascending vineyards. Zagorje is a traditional region of Croatia lying just north of Medvednica mountain. Certainly, no Croatian region has a bigger impact of the traditions of Zagreb than here. Because this is where Zagreb gets most of its food from. Not only the fresh produce, grown in fields, but also many 'Zagreb' recipes actually come from here. Above all, it's an escape to a timeless lifestyle balanced with nature. Rustic restaurants lie within view of ancient castles. A magical vista. If you want to learn more about the area over the hill, then read our guide.
Your Zagreb questions answered
Is Zagreb worth visiting?
As the cultural and social capital of Croatia, the city of Zagreb is definitely worth visiting. Nowhere else in Croatia will you find as wide a choice of things to do, places to go or food to eat.
Is Zagreb expensive?
If your comparison is any western European capital or city, then Zagreb is not at all expensive. Neither in terms of visiting, nor indeed living here.
How many days do you need for Zagreb?
Genuinely, you might as well ask how long is a piece of string? If you follow our guide, then you make a round trip of the centre in one day. But, at least two days is a much better way to see Zagreb. Although, you'll still be finding discovering exciting parts of the city after a week. Or, even a month. If you're planning to visit Zagreb, then set aside a weekend - the city is perfect for a weekend break. You never know, if you fall in love with the place - and you may well do - you can always come back.
Is Zagreb safe?
For the answer to this question, don't just take our word for it. Look at any interviews you can find made by foreign-born females who have moved to Zagreb. All say exactly the same thing. They feel incredibly safe in Zagreb. Zagreb has an extremely low rate of crime. In particular, violent crime and crime experienced by visitors are extremely low.
Croatia is a traditional, Catholic country where family is extremely important. Subsequently, young people are raised to be extremely respectful and courteous. Instances of knife or gun crime here are almost zero. You cannot say that about many European cities. Women of all ages feel safe enough to walk around everywhere in Zagreb, unaccompanied, at any time of day or night. Generally, the few instances of scuffles you may rarely hear about taking place in Croatia happen between rival football teams. And, that doesn't happen in the capital. Because, here, absolutely everyone supports Dinamo Zagreb.
Is Zagreb pet-friendly?
If you're visiting Zagreb with your dog, then don't be surprised if he/she wants to stay when you leave. Zagreb is very accommodating to dogs and their human companions. In all but the most fancy of restaurants, you can take your dog. In fact, people will want to pamper and pet them. Water bowls will be placed at your feet as soon as you sit down on most cafe terraces. Often, it comes even before your coffee. You'll find many accommodation offers welcoming of pets. Although, needless to say, you should check this in advance.
How far is Zagreb from the coast?
At a distance of 160 kilometres, the nearest point on the Croatian coast to Zagreb is Rijeka. It takes less than two hours by car. Also, you can take buses, trains or a plane from Zagreb to every region of the Croatian coast. If you want to learn more about travelling to and from Zagreb, then see below.
Why go to Zagreb?
The city holds so many options, there are many good reasons to visit Zagreb. You'll find brilliant history and grand architecture here. Also, international sports fixtures, cultural events and festivals. Zagreb's accommodation offer is wide enough to suit every taste and budget. You'll meet beautiful city parks and can engage in countless activities. With the countryside just 30 minutes away, it's a great base for exploring nature and rural Croatia. Furthermore, you can visit one fascinating gallery or museum every day for two weeks and you still won't have seen them all. Zagreb is cafe central and the nightlife capital of Croatia. All in all, it's everything you want when looking for a city to visit.
When to visit Zagreb?
The city of Zagreb is good to visit at any time of year. In fact, Advent - Zagreb Christmas market - makes the citer one of Europe's most popular wintertime destinations. With warm days that begin in spring and last until late autumn, Zagreb is perfect for a weekend or short break whenever. Certainly, you won't be the only one to discover this. An increasing number of bachelor and bachelorette parties choose Zagreb for a weekend party throughout the year. Also, many couples choose the city for the big day itself. With countless accommodation and catering options, it's the perfect choice for a wedding. In summer, events can be found in city parks and squares. In and among the entertainment, you'll meet people from all over the world who have travelled here to enjoy.
Is Zagreb a good place to live?
Think about everything you want from a city. Modern and contemporary, yet picturesque and filled with history. Well connected yet calm and peaceful. Warm and welcoming. Zagreb is all of these things. Now, think of every aspect of city life you don't like. Violence, crime and dirtiness. You won't find that here. Zagreb offers one of the best lifestyle choices in Europe, with a major, international airport that will take you anywhere you need to be. But, you'll find you can't wait to come back to your Zagreb home.
The culture and entertainment offer in Zagreb is everything you'd expect from a modern European capital. Yet, the pace of life is relaxed. there's always time to linger long on a cafe terrace or in a countless number of city parks. Furthermore, with the coast just a couple of hours away by car, the prettiest seaside in Europe is almost on your doorstep.
Wellness and Medical Tourism
Croatia - and Zagreb - has some of the best medical tourism services in the world. The arrival of Ryanair in the capital in the summer of 2021 has finally opened up the city's potential to several new markets. With affordable flights, the cost of treatment, flights and holiday are often much cheaper than the comparable cost of just the the treatment back home. Perhaps there is no better example of this than how one Zagreb clinic transformed the life of an American patient, while also saving him tens of thousands of dollars. Read Carl's story.
Wherever you look, you will find medical tourism excellence on a global scale. In December, 2019, Bagatin Clinic was voted best international cosmetic surgery clinic by the International Medical Travel Journal in Berlin. St Catherine's Specialty Hospital is one of the Leading Hospitals in the World, and the first to bring pharmacogenetic testing to Europe, in partnership with Mayo Clinic. Svjetlost is the regional leader in performing corrective eye surgery. The list goes on. Learn more in the TC health tourism in Croatia guide.
Digital Nomads in Zagreb
Zagreb has been hosting digital nomads for years, but the nomad buzz only really started with the introduction of the Croatian digital nomad permit on January 1, 2021.
While many nomads head to the coast for some laganini Adriatic lifestyle, an increasing number are spending more time in the capital. Zagreb offers affordable pricing, excellent connectivity, safety, excellent English, a vibrant startup scene, a vibrant gourmet and entertainment scene, as well as a very relaxed lifestyle.
The city is also taking the opportunity seriously, hosting Zagreb Digital Nomad Week in June 2021, one of several initiatives of the city in public-private partnership.
For more on the digital nomad scene in Croatia, check out the TC guide, and follow the latest in the dedicated TCN news and features section about digital nomads in Croatia.
English-speaking Zagreb: Where can I find an English-speaking...
Doctor. Here is a list of English-speaking doctors, broken down by speciality.
Almost all dentists speak English, and you will not have a problem finding one. Bagatin Clinic is our recommendation.
Gyms.
Weather in Zagreb
The climate in Zagreb is mild and generally warm and temperate. Generally, the months of May and September are very warm and pleasant. On average, the temperature in these months is around 22 °C by day, 13 °C at night. Unsurprisingly, June, July and August are the warmest months, with an average of 23 °C. You'll find December and January the coldest months. Indeed, it's not uncommon for the temperature to drop below zero, particularly at night. Also, it remains cold throughout February after sunset. If you want to see the weather forecast for Zagreb today and the next few days, then look below.
Where is Zagreb? Zagreb Maps
City of Zagreb
Zagreb is located in central, continental Croatia, roughly 30 kilometers east of the border with Slovenia. It lies immediately south of Medvednica mountain. Indeed, the mountain acts as a natural border between the district City of Zagreb and Krapinja-Zagorje County. At a distance of 160 kilometers, Rijeka is the nearest point on the Croatian coast to Zagreb. If you were traveling roughly in a straight line, Zagreb is around 300 kilometers directly north of Šibenik. In detail, Zagreb GPS coordinates in respect of latitude and longitude are 45.8150° N, 15.9819° E. The zip code for Zagreb is 10000 Zagreb (post code).
Zagreb County
By far, Zagreb is Croatia's most populated city. Accordingly, it has its own special status as a Croatian administrative division and is a consolidated city-county. Subsequently, it is not actually a part of Zagreb County in regard to its administration. However, the City of Zagreb is surrounded by Zagreb County to the east, south and west and the two retain incredibly close links. Aside from administrative classifications, Zagreb is the cultural and social capital of Zagreb County.
Conferences
The Hilton Hotels of Zagreb have excellent conference facilities, and there is plenty of choice and flexibility according to the size, length and type of your event.
Double Tree Hilton by Zagreb has over 1,250 square meters of versatile meeting space featuring the 325-person Mimosa Ballroom. All meeting rooms feature modern A/V equipment. Meeting coordination and catering are available.
The Canopy by Hilton Penkala and Tesla meeting rooms accommodate up to 10 and 16 guests respectively. An unconventional style and comfy furnishings make these spaces ideal for intimate social functions.
Hilton Garden Inn Zagreb has 6 meeting rooms, the largest of which is 362 m2, and a total of 828 m2.
Zagreb real estate and rent
The real estate market is in a state of constant flux, and several factors need to be considered when looking for a place to buy or rent.
The most pressing is how the devastating 2020 earthquake has changed the housing market in the city. Many buildings in the centre are either still unsafe or not fit to rent. Older buildings suffered more than newer ones in general, and the centre is certainly not as inhabited as it was prior to the earthquake.
Another factor which has impacted the market has been the rise of tourism in the city, and the rapid popularity of short-term rentals via platforms such as AirBnB and Booking.com - the rapid growth of tourism in Zagreb is a relatively recent phenomenon.
The pandemic has changed the rules once more, with less people travelling, but people booking for longer. You can learn more about the property buying process in the TC Property in Croatia guide.
TC partners Zagreb West have decades of experience dealing with the Zagreb market, so please contact them for more information if you are looking to buy, rent or buy to rent.
How to get to Zagreb and get around
Flights to Zagreb
300 million euro Franjo Tuđman airport places Zagreb truly among the best-connected European capitals. Indeed, you won't be alone in taking your flight to Zagreb. In fact, planes now land here from almost every continent.
Flight and carrier information is fluctuating in 2020/2021. But, it's constantly updating in an increasingly optimistic direction. In order to keep abreast of flights to Zagreb, check out the latest flight news on Total Croatia News. Alternatively, the airport's website is always up to date as well. If you're travelling to Zagreb airport and want to know more, like where to rent a car, then read here.
Zagreb Bus: Intercity and local
Autobusni Kolodvor is the intercity and international bus station in Zagreb. Each of its 44 platforms are busy around the clock. If you want more info about Zagreb national and international bus connections, then here's an overview.
Road, by car
By road, Zagreb is the best connected city in Croatia. It stands on the European routes E70, connecting Spain to Georgia, E59, from Prague, via Vienna and Maribor to Zagreb and the E65, connecting Sweden all the way to Greece. Subsequently, driving to Zagreb is easy from anywhere.
Zagreb Trains
Well-connected by train, you can travel direct to Zagreb from many European capitals and countries. Specifically, you'll find trains to Zagreb from cities such as Belgrade, Budapest and Ljubljana. Also, you can take a train from Austria, Germany and Switzerland to Zagreb.
International train to Zagreb: The Pan-Europe Network
Furthermore, improvements to the pan-European train network are coming. These will soon see Zagreb connected to southern Spain in the west and Greece in the east. Specifically, RH2 line comes to Zagreb from Almeria on Spain's Mediterranean coast, through Madrid and Barcelona. Subsequently, it passes through Marseille in France, then northern Italy and Slovenia before reaching Zagreb. Thereafter, it travels on to Budapest, then Záhony, east Hungary, near the border with Ukraine.
By comparison, the RH1 line - part of the Pan-European Corridor X - takes a more traditional direction south. In fact, the Croatian section of this route was once one of the three lines taken by the Orient Express. Starting in Salzburg, Austria, the train runs through Ljubljana before getting to Zagreb. Thereafter, the train passes through Slavonski Brod and Vinkovci, then Belgrade and Niš in Serbia. The old Oriental Express line then used to head east, to Istanbul via Sofia, Bulgaria. By comparison, the new train line instead heads south, to Thessaloniki in Greece via Skopje in Macedonia.
Croatia trains: Zagreb central
Of course, as you'd expect, the city is also the national rail hub. All roads may lead to Rome. But, in Croatia (almost) all trains lead to Zagreb. You'll find the most popular lines are the Zagreb to Split train and Zagreb - Rijeka. But, you'll definitely be able to buy a ticket. In fact, it's almost unheard of for a train to be full. Generally, Croatians prefer to travel by car or bus because they regard the train as slow.
While this may be true, Croatian trains are not cramped and usually have electricity power points. Subsequently, you can comfortably use a laptop on Croatian trains. Also, you can get up and stretch your legs or simply enjoy the view from your window. Additionally, you'll find some overnight trains, so you can sleep through your journey. If you want to learn more about travelling through Croatia by train, then look here.
Getting around Zagreb
You'll find getting around the city very easy. In fact, Zagreb public transport network is one of Europe's best for a city this size. Furthermore, it's fully integrated. If you have to go somewhere the tram network doesn't, then you'll find a bus covering that area.
Tickets for Zagreb trams and buses
Tickets for Zagreb trams and local bus are exactly the same. The best (and cheapest) way to buy a ticket is in advance from a street kiosk, like Tisak or iNovine. You'll see these kiosks everywhere, selling tobacco, magazines, drinks and the like.
A standard ticket for Zagreb trams and buses costs just 4 kuna if bought in advance. You can use both public transport with this ticket. Furthermore, you can change tram or bus as many times as you need to. The ticket becomes valid after you punch it in the machine upon entering the tram or bus. However, the 4 kuna ticket is only valid for 30 minutes. Generally, these are used as single-journey tickets and another is purchased for any return journey.
Both bus drivers and tram drivers will sell you a ticket when you get on, if you ask. Although, they do not carry the bargain 4 kuna tickets, so you will pay more for your journey. If you're going to use Zagreb trams and buses, then the best advice is to buy a few 4 kuna tickets at once. Keep them in your purse or wallet for when you need them. Alternatively, you can buy day or month tickets. These are useful and inexpensive for those expecting to use public transport a lot. Or for those expecting to stay a while.
Zagreb Trams
Both regular and reliable, Zagreb trams take you almost everywhere in the city. Indeed, they even travel suburbs some 40 minutes from the centre. Moreover, the network is easy to navigate and the trams easy to use. Although, getting to grips with Zagreb trams is advisable, so here's how to.
Bus
If you need to travel somewhere in Zagreb the tram doesn't go, then the local bus network fills in. Also, local buses occasionally replace some tram lines after midnight or during maintenance. If you want to get to or from Zagreb airport, then bus is the cheapest option.
Aside from local, inner-city buses, Zagreb is also the centre of the inter-city bus network. Subsequently, there are two main bus stations in the centre. If you want to get a local bus, then you need the station here, behind Importanne Centar. Or, pick up the line you need from a street on the route. If you want a bus to the airport, coast, inter-city Croatia or international, then you need Autobusni Kolodvor here. Both bus stations are in the centre and are connected by a short tram ride. If you want to learn the ins and outs of Zagreb bus travel, then look here.
Taxis, Uber
Generally, the most expensive Zagreb taxi is the one conveniently waiting outside the station, airport or public building. If you must urgently take such a taxi, then following a few simple rules will benefit. Firstly, ask and agree a price with the driver before you even get in the car. Secondly, be aware of the value of local currency. Only a prize doughnut agrees a fare price without knowing how much a kuna is actually worth.
These days, you hear a lot fewer stories of clueless tourists being ripped off by unscrupulous Zagreb taxis. But, that's not to say it never happens anymore. Maybe visitors wised up? Perhaps taxi drivers became nicer? Certainly, the Zagreb taxi experience became a whole lot nicer after deregulation. Taxi Cammeo was the first widely recognized and trusted operator. Furthermore, they remain one of the cheapest reliable options. Also, apps like Uber and Bolt are here and now help keep prices low.
Rent a car in Zagreb
You'll find lots of places to rent a car in Zagreb. Indeed, you can book one before you arrive and pick it up at the airport. If you want to travel to the coast or multiple locations outside the city, then renting a car in Zagreb is maybe best. However, there are some ride-sharing options you may also want to consider.
Car pooling / ride share
Ride-sharing app BlaBlaCar is in Croatia. If you don't already have it on your phone, then it might be a good idea to download it before you come. Alternatively, there are several very popular Facebook groups beginning with the word 'Prijevoz' (transport). Both reliable and reasonably inexpensive, these groups are a great way to get from A to B. In particular, if you're only making a one-way journey. Both requests for rides and advertising free car places are a normal facet of these groups. So, don't be afraid to ask! Although be warned, most of the communication in these groups is in Croatian. If you have a local friend, then maybe ask for help?
For general travel around Croatia, check the biggest 'Prijevoz' group here. If you're looking for more specific journeys, then find a group for Zagreb - Osijek here. Also, there's one for general to and from Zagreb travel here. Additionally, this one is exclusively for travel between Split and Zagreb.
Bike
You'll find many options for renting a bike in Zagreb. At the present time, Next Bike has 17 locations around the city where you can pick up or drop off a bike. In particular, this service is good for a quick dash across the city. It costs 5 kuna for 30 minutes or 10 kuna for an E-Bike or tandem. Download the app and link it to your credit card for payment. If you want more information, then look here. Alternatively, if you want to keep a bike with you all day, consider a more traditional service. Both Pedaloo here and bike.com.hr here have this offer.
Scooters and motorcycles
If you're looking to rent a scooter, then try Esco here, 123Go here or Bikini here. Alternatively, for motorbike rent in Zagreb, try Rocker here.
Parking in Zagreb
There are three parking zones in the centre of Zagreb:
Zone 1 (red): 12 kn/h, max. 2 h; 100 kn/day
Zone 2 (yellow): 5 kn/h, max. 3 h; 60 kn/day
Zone 3 (green): 2 kn/h, no max. waiting time; 20 kn/day
For a complete overview of parking in Zagreb, click here.
How to get from Zagreb to airport
If you're travelling alone, then the cheapest way to reach the airport from Zagreb is by bus. You'll find the airport transfer bus departing regularly from the Autobusni Kolodvor station. The ticket price is around 25 kuna and you can check the timetable here. A more recent addition is the city bus line 290, by local operator ZET. If you want to see the timetable, then look here.
Private transfers
Looking for a fast, reliable and trouble-free transfer to or from Zagreb? Contact TC transfer partner Adriatic Transfers for your one-stop solution.
Zagreb and COVID-19
Coronavirus has been a part of Zagreb daily life since early 2020. The situation is constantly changing. For the latest information, check the TC COVID-19 in Croatia page, which is updated daily.
More information
Zagreb live cam
Looking to check out life in the city right now?
Apps
There are several apps available for free download which will enhance your Zagreb experience. Learn more about what is on offer and where to download them, all in one place.
What is the cost of living?
The cost of living in Zagreb is higher than many other parts of Croatia, but also much more affordable than similar European capitals. For an overview of prices, check the Numbeo cost of living guide.
How to pronounce Zagreb?
Many visitors are unsure how to pronounce Zagreb, and a large number get it wrong. The emphasis is on the first syllable - ZA-greb.
When was Zagreb founded?
The name 'Zagreb' was first used in 1094 with the founding of the Zagreb diocese in Kaptol. It became a royal free city in 1242, and then the capital of Croatia in 1845.
Zagreb population
According to the 2011 census, the population of Zagreb was 792,875, thereby making it the biggest city in Croatia.
Zagreb card
If you intend to do a lot of sightseeing and travelling around the city, you may want to consider the Zagreb Card, which offers free transport and significant discounts on entrance to four museums, as well as Zagreb Zoo. The card is available for 24 and 72 hours.
Can I drink the tap water in Zagreb?
Yes, tap was is drinkable all over Croatia, and you can also drink from the fountains and water pumps in the city. In 2021, an initiative to promote more sustainability and the refilling of plastic bottles called Pimp My Pump started, bringing decorative art to 20 pumps all over the city.
What is the Zagreb postcode?
The postcode for Zagreb is 10000. The dailing code is 01 (dial +385-1 from abroad).
LGBT Zagreb
Croatia is a conservative Catholic country, and attitudes to the LGBT community are sometimes reflected in that conservatism. Zagreb is a lot more accepting of the LGBT community than other parts of the country, and the Zagreb Pride march is now in its 19th year, and is a popular fixture on the Zagreb calendar.
For more information and advice for LGBT travellers, check out the TC LGBT guide.
Zagreb Tourist Board
Address: Kaptol 5, 10000 Zagreb, Croatia
Email: This email address is being protected from spambots. You need JavaScript enabled to view it.
Telephone: +385 1 48 98 555
Website: infozagreb.hr/
Facebook: facebook.com/visitzagreb
Zagreb Visitor Information Centre
Address: Ban Jelačić Square 11, 10000 Zagreb, Croatia
Telephone: +385 1 48 14 051, +385 1 48 14 052, +385 1 48 14 054
Working hours: Mon–Fri: 9am-8pm; Sat, Sun, holidays: 10am-6pm
If you want to get the latest news for Zagreb, then check Total Croatia News here.
This Zagreb guide has been produced in partnership with Hilton Hotels in Zagreb.