Getting married in Croatia: How easy is it?
You are on holiday with your partner in Croatia. SUCH a romantic country. You decide to pop the question, and she says yes. And then the craziest idea enters your heads.
Why not get married in Croatia?
Why not indeed! And you would not be alone. The foreign wedding industry is booming, and the steps to saying 'I do' on the Adriatic are getting easier each year.
You can choose to employ a wedding planner, or not. Organise a fancy wedding in a posh hotel, or opt for an intimate ceremony in a vineyard. A little like Croatia itself, the wedding venues are diverse and spectacular.
As with any wedding back home, a little forward planning is advisable, as things are getting busy.
A look at the paperwork for foreign weddings in Croatia
Documents you will need:
Passport
Birth certificate issued no earlier than 90 days before the ceremony. Welcome to the insanity of Croatian bureaucracy!
Certificate of non-impediment certificate, no earlier than 90 days before the wedding
Additional documentation may be necessary, depending on the country origin. A lawyer or wedding planner will be able to advise and help.
These documents may need an Apostille stamp as well, depending on country of origin.
You must officially translate and submit these documents to the registrar 30 days before the wedding. There is also normally the requirement of a formal interview with the registrar prior to the ceremony to go over all the details.
After the wedding, you will receive your marriage certificate. You will need to validate this through the local registrar's office. You will need an Apostille for international acceptance.
What kind of wedding do you want in Croatia?
If you are looking for the traditional church wedding, followed by a lavish reception for 200 guests, Croatia has plenty to offer. Or perhaps you are looking for something a little less ostentatious. A wedding in a vineyard, perhaps?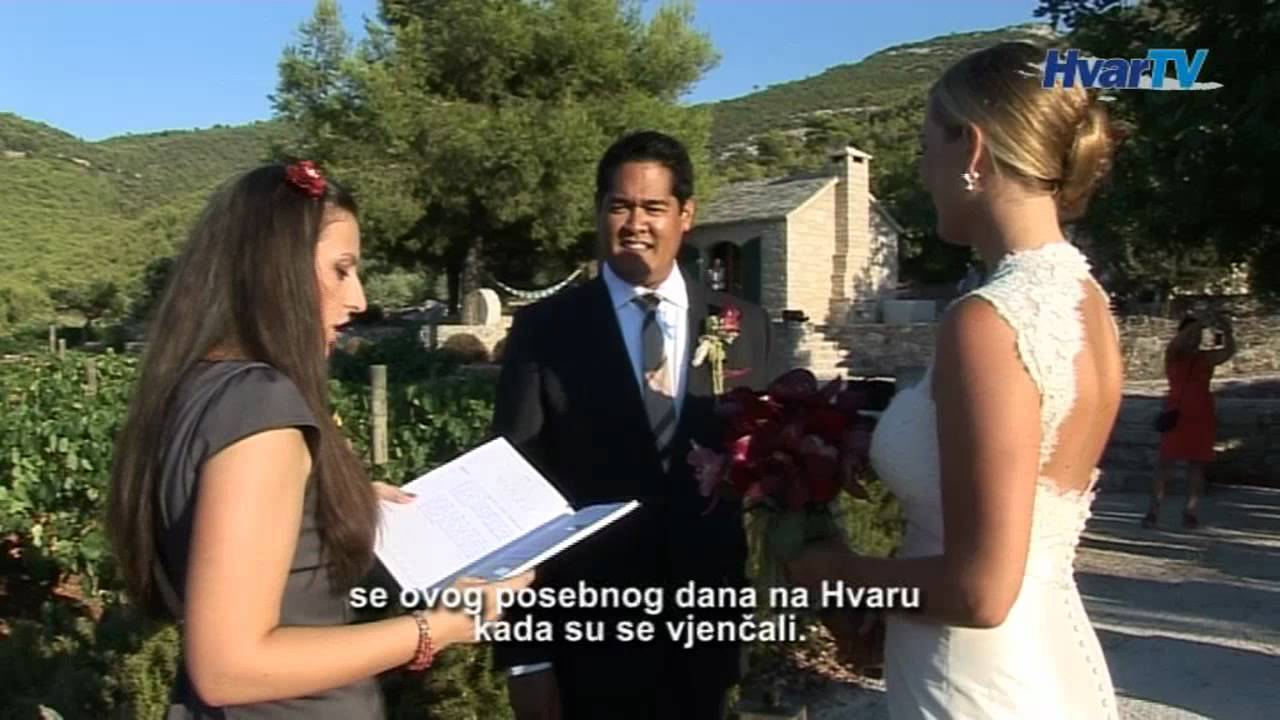 One of my favourite stories on Hvar was the Californian couple, who fell so much in love on Hvar that they decided to tie the knot. Huge fans also of the island's wines, the couple found a wedding planner, who arranged a ceremony among the vines of celebrated Jelsa winemaker, Andro Tomic. The main reception then took place in his Romanesque cellars, and you can see the who event in the video above.
The point is that Croatia has some incredible wedding locations, as well as facilitators who can make the impossible really happen. Decide what you want, and you may well find your impossible dreams come true.
The top locations for weddings in Croatia
All I can say is that you really have some unbelievable choices. There are SO many amazing cities, islands and remote places to choose from, depending on your requirements.
Dubrovnik, Hvar, Rovinj are all dream locations, but then so are so many others. For some specific top locations, here is an overview of some of the greats.
Being a Hvar boy, of course, I know that island well. It truly is a great place to start your new life together. Here are just five amazing place to tie the knot.
Gorgeous Croatia, the wedding, honeymoon and guest holiday combination
One of the great advantages of having a wedding in Croatia is that you do not have to travel very far for the honeymoon. While couple traditionally jet off somewhere exotic for that first holiday as a married couple, all you have to do in Croatia is to walk out of the hotel front door.
The same works for your family and friends. Having a foreign wedding can be an expensive journey in isolation, but with enough forward planning, many can turn it into the summer holiday as well. Killing two birds with one stone, and ensuring the party continues for a while.
Do you really need a wedding planner?
Wedding planners in Croatia have really improved in quality (and increased in quantity) in recent years. A greater understanding of the needs of foreign clients, more availability of top locations, and better services have all helped.
But do you actually need a wedding planner?
The answer to that depends a lot on yourself. Getting married in a foreign country, with much of the arranging done from distance, can be stressful. And if you do not speak Croatian, navigating the paperwork will be a challenge.
Additionally, some hotel wedding locations also provide a wedding planning contact in the package, so this could be a partial solution.
The answer ultimately rests with you. Wedding planners certainly have a role to play. They can not only make sure the day goes smoothly, but also have lots of local contacts for those little extras.
Perhaps you can do it all yourself. It is your day, so you decide.
I interviewed the wedding coordinator from Suncani Hvar Hotels last year - perhaps there is something in the interview which will be of interest on this topic.
Can you arrange your wedding without being in Croatia?
Incredibly - at least to me - I have come across several cases during my time here where the happy couple have arranged the entire wedding from abroad.
Wedding traditions in Croatia
Croatia has some very quaint wedding traditions, care of Weddings in Croatia website:
Obilježje
Before a small box with an expensive ring came into fashion, young Croatian men proposed marriage with a piece of fruit referred to as obilježje (the mark). Basically, it's an ordinary apple with coins stuck into it. If the girl accepted it, the obilježje would mark her with the man who proposed, thus making them engaged.
In some cases, coins would be replaced by other items, such as candy or even cookies such as paprenjak.
Buying the bride
A custom that is quite bizarre but very common is the custom of buying the bride in front of her house. The groom arrives with musicians, his best man and other participants of the celebration in the groom's party, yelling into a window that he wants to marry a girl. The door opens, usually by male family members of the brid. They acknowledge the existence of a bride inside, but they are not just giving her away.
From this point on in, several options are available. Sometimes, the groom bids and barters for the bride but the family refuses to sell, deeming his offers too low. In the end the family gives her away for free if the groom promises to love her with all his heart.
Sometimes, however, money is not an issue. The groom has to prove his own worth to the bride's family. This includes providing a glass of his own hand-made rakija, and if it is good, he may have the bride. In other cases, he needs to do a certain amount of push-ups in order to show physical strength, or even sing a song about bride's beauty.
The bride's family, however, may try to "cheat" the groom by selling him a false bride. This includes a rugged doll dressed in a wedding gown, or the bride's grandmother in one as well. After realizing their fraud, the groom asks for the real girl to come out.
After the sale is agreed upon and the groom proves himself worthy of the bride, her family joins the group outside and both parties leave for the church.
Barjaktar
Barjaktar can be translated as a "banner holder." It is a person who carries and waves the Croatian flag in front of the wedding procession on their way to Church, town hall, or a banquet hall. It is a very important duty, one for people with a long history of being loud, funny and slightly crazy. You'll see them hanging out the window of the cars as the procession makes its way around town from one location to the next.
Protecting the bride
As most Croats are Roman Catholic, marital ceremonies are usually preformed in churches. While in the past wedding gowns were always white, symbolizing the bride's virginity, modern life slightly altered this practice so other colors are acceptable as well.
In ancient times, people believed that evil spirits wished to jinx the bride on the day of her wedding. To defend her from this accursed danger, people developed several efficient countermeasures including putting the much-known veil over her face. She could remove it safely only after the ceremony, seconds before the groom's kiss.
Another way of protecting the bride was to chase off the evil spirits away. In order to do so, several participants of the celebration would wear masks and create as much noise as possible (as every ghost hunter knows, nothing chases away devils from hell better than senseless noise). The use of firearms, such as hunting rifles fired in air, is quite welcome. It should be noted, however, that these customs are not practiced too much these days, and are almost utterly extinct in urban areas.
Family pants
Other old customs determined who would be the real leader of the house once the couple began living together. After the actual wedding, the two would try to step on each other's feet. If the groom succeeded to do so before the bride, he would be the head of the house. On the other hand, if the bride managed to step on the groom's foot, she would call the shots in marriage. In another version, the newly wedded pair would race to the church doors. The winner would run the house.
Going to a Croatian wedding? Here is what you need to know
Croatian weddings are large affairs, and they tend to go on for a while.
I have been to a few in my time here, and the traditional ones tend to follow a very similar path.
It all starts, as all great Croatian stories do, with a glass or rakija or wine and some nibbles at the house of the the bridegroom. From there, the jolly crowd heads to collect the bride-to-be from her house. The entire ensemble then heads to the church for the official ceremony.
Driving to the reception in a fleet of cars necessitates the honking of horns, with a Croatian flag unfurling from the lead car, a 7-course meal awaits. Each course comes with a break for dancing in between each course. This means that is has often been long past midnight when the main course (invariably lamb) comes to the table.
The singing and dancing often goes on until dawn.
Rakija is consumed...